Apartment A 2, for a family or group of up to 4 people

Can be a great choice and your ideal accommodation
Our home is your home, and we have created a comfortable and welcoming space for you to enjoy during your stay. With complimentary WiFi, free parking, and air conditioning, you can relax and make yourself at home.
We understand that the little things make a big difference, so we provide a range of amenities to enhance your stay. Fresh towels, linens, soap, dishwasher tablets, kitchen towels, and sponges are all included. We even offer a refreshing bottle of water, fresh fruit, and a welcome drink to greet you upon your arrival. You can also take advantage of our barbecue facilities with complimentary firewood, as well as sun umbrellas and outdoor furniture for you to relax and soak up the sunshine.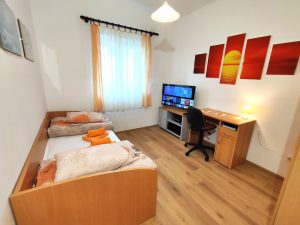 In addition to the amenities, we are here to personally welcome you to our home and ensure you have a pleasant stay. We live on the property, and we are committed to providing you with warm and friendly hospitality, while also adhering to COVID-19 safety measures.
If you're arriving by plane, we offer a complimentary airport transfer. And if you're traveling by car, we have covered private parking with an electric vehicle charging station for your convenience.
We strive to make your stay special and memorable, and we are here to assist you with any questions or requests you may have. Thank you for choosing to stay with us, and we look forward to hosting you!
Apartment A 2 is an ideal accommodation for a family or group of up to four people. The 32 m² living space has 1 bedroom with 1 double bed and 1 living room with 2 beds. In addition, the newly furnished apartment offers air conditioning with heating and cooling functions, a flat-screen LCD TV with satellite receiver, a hi-fi system, WiFi, a safe, a radio with alarm clock, a hairdryer, and a fully equipped kitchen with dishwasher, Microwave, crockery, cutlery, coffee maker, fridge and freezer.
The cozy atmosphere of this apartment is complete with modern furniture, which includes a comfortable bed and armchair, a dining table with 4 chairs, as well as a sideboard. The living area also includes a beautiful wood desk with shelves to store books and other items, allowing for a relaxing office setup. In the separate bedroom, you will find a large wardrobe with plenty of storage space for all your clothing. Additionally, the bathroom offers ample counter space, a shower and a sink.
The apartment Carmen A 2 has its own terrace, which opens onto a private garden with a seating area and barbeque. There's also a communal garden, with a playground to enjoy in the summer months. In addition, the apartment also has a parking space, a bike shed, and shared laundry facilities. All these features make this apartment the perfect place to call home.
The garden has garden furniture, a parasol and a fireplace, so you can have a barbecue every day. In addition. The beach, where you can find sand and pebbles, is 300 meters away, but you can also enjoy the sea view from the garden.
ACTIVE HOLIDAYS
Being on holiday does not mean resting. At least not in the way it was once implied. Holidays are becoming more active, which relaxes the spirit and relieves whatever was troubling it. By understanding the needs of the modern man, tourism stakeholders in Dobrinjština enrich their offer with details that make holidays more attractive, more interesting and thus more useful every year. Here is how and where you can spend active holidays in Dobrinjština and relax and strengthen your body and spirit!
For ACTIVE HOLIDAYS options, check here 
Check out our links on social networks:
Facebook, Twitter, Youtube and Tripadvisor